What is microlaser cutting?
The microlaser cutting technique is also known as Laser MicroJet (LMJ). Compared to conventional laser processing techniques, a microlaser is characterized by the water column that envelopes the laser beam during the manufacturing process. Light beams reflect outward and the workpiece is cooled at the same time.
These unique features make the laser cutting method very useful for customers who want to accurately machine a diversity of materials (from conductive metals to ceramics). Micro-level laser drilling is also possible; optimal applications include drilling small diameter holes in semiconductors and insulators.
Advantages of a microlaser
This remarkable technology offers even more advantages. In addition to extreme precision and high manufacturing speed, it also offers great versatility. While conventional laser cutting occurs on flat surfaces, a microlaser can also easily do its job on three-dimensional objects. Angled surfaces with laser diameters from 30 to 80 microns are an example of the extensive possibilities.
The microlaser drilling and cutting technique can be applied in many sectors. Among others, the energy, medical, metal, and diamond industries are showing great interest. Ter Hoek mainly machines objects up to 5 millimeters thick with the laser in its production facility in Rijssen. Thicker workpieces are possible upon request.
ADVANTAGES OF MICROLASER
No heat-affected zone
Sharp angles without rounding
Low-tension machining
Higher machining speed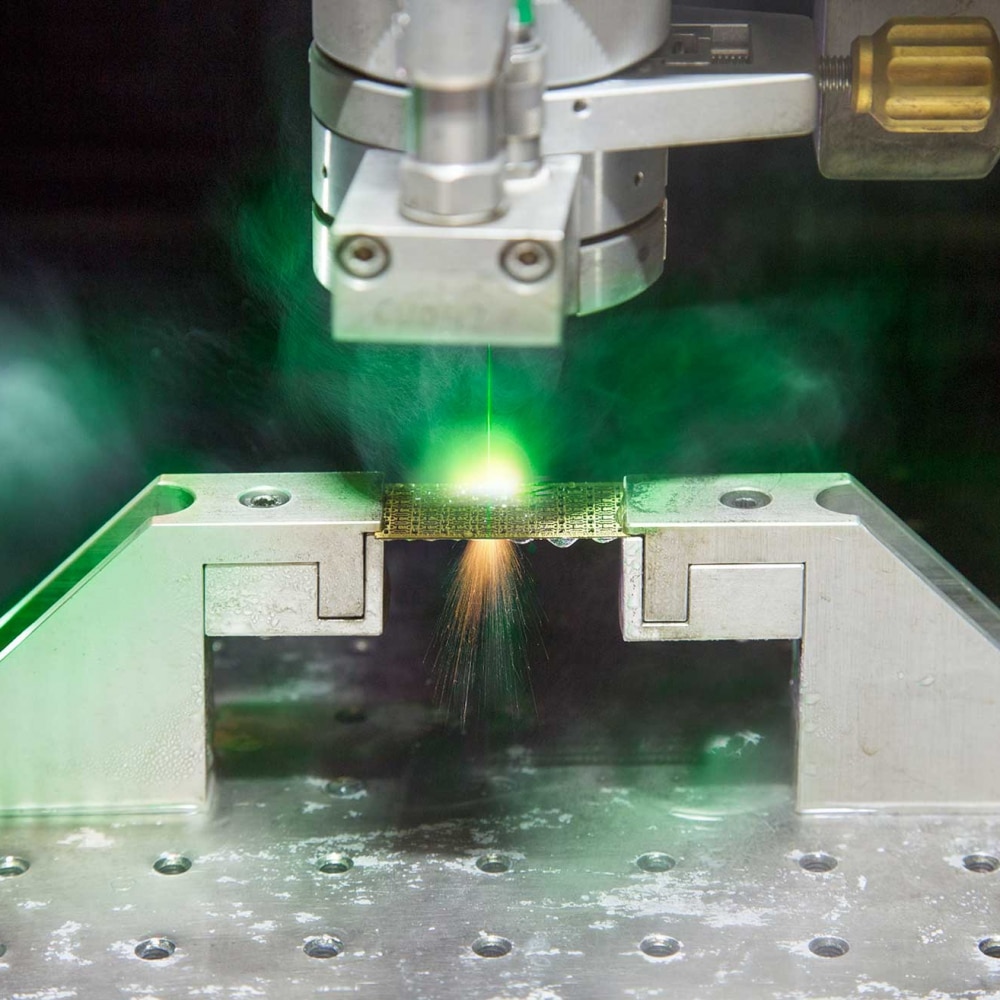 Why microlaser cutting at Ter Hoek?
Ter Hoek is AS9100-certified, and this means that our customers can rely on proven craftsmanship and expertise. We work according to the most stringent quality requirements and associate constant process reliability with the best possible end result. We continuously measure and evaluate our performance using an internal quality management system.
Ter Hoek has developed from a manufacturer to a knowledge partner with more than a quarter-century of experience in this profession. Advice and support in engineering have become standard components in our work. And we continue to challenge ourselves to offer ever more innovative and efficient solutions.
Microlaser: costs and quote
Microlaser cutting is an advanced micromechanical process that is complex. Nevertheless, the operating costs of our microlaser do not have to be sky-high. Our dedicated consultants will identify your specific needs and develop a cost-effective solution based on these requirements, resulting in the most competitive quote possible.
This way, we keep the cost of using our innovative technology manageable in all cases. Of course, aspects such as shape, size, and material influence the rates for our services. The desired batch size and special requirements from the customer can reduce or even increase costs.
Are you curious about the many possibilities of our microlaser, or would you like to receive a quote today? Then please contact our helpful product specialists. We will gladly tell you all about our microlaser cutting methods and the options we can offer you. E-mail us at info@terhoek.com or call us on 0548 – 54 08 07 for more information.